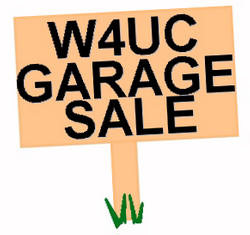 W4UC ONLINE SWAP MEET
---
This page is for use only by members of the Five Flags Amateur Association to post Items for Sale or Items they are searching for.
Only Amateur related items may be posted such as Transceivers, HTs, Antennas, Towers, Computers, Tuners...
To add an item, please click the link to the WEBMASTER below.. Include your email address, a telephone # you can be reached at if you would rather have a potential buyer call you rather than email you, a complete description of the item, asking price, and if at all possible, a picture of the item.
Please inform the WEBMASTER when the item has been sold or is no longer available.
---
WANTED CRANK UP TOWER - N4DIA is looking for a 40 to 60 foot crank up tower (not a single pole type but a lattice type tower. It must be in good enough condition to be restored. Aluminum or steel. You can contact N4DIA at webmaster@w4uc.org N4DIA@COX.NET
---