Welcome To The Home Of The
Five Flags Amateur Radio Association
Pensacola, Florida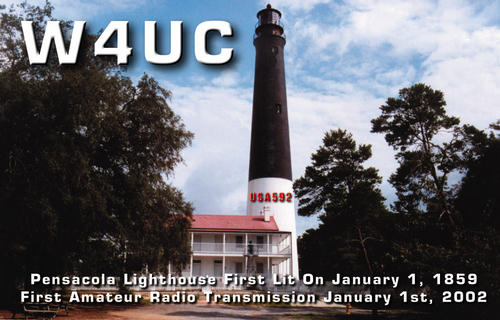 W4UC is the Club Call of the Five Flags Amateur Radio Association Ham Radio Club located in Pensacola, FL. We are dedicated to promoting Amateur Radio, performing Public Service and educating HAMs and non-HAMs alike on the benefits of Amateur Radio.

FFARA was instrumental in providing emergency communications during Hurricanes Ivan, Dennis and Katrina.

FFARA provides communications for countless public events throughout the Pensacola Area year round

Latest News From W4UC
1. 2014 Field Day Report. Field Day was fun for everyone. Will be discussing the report at the Five Flags Amateur Radio monthly meeting (7pm, first Thu of each month at Golden Corral).

2. IOTA (Islands on the Air) will be held at Ft Pickens this coming weekend (July 25-28). Setup is on Friday, Group picture is at 7pm on Friday, get on the air as of 7am on Sat until 7am Sunday, then teardown. Contact Dave Root for more information. IOTA is a great chance to get on the air, especially for new hams.

3. The next scheduled ARES event (assuming no Hurricanes show up) is a training and work day on Aug 9 at the EOC. The training would be for new ARES members, and is the same training that we did earlier this year.

4. New Section-wide net officially started on PSK31: North Florida Digital Net - Sundays at 1800 CDT - 3.590 MHz.

5. There are now two Section-wide ARES nets for D-Star each week, one on Wed at 0800 CDT and Thu at 2000 CDT, on REF046C and nfl.ratflector.net. According to Steve (W4SJV), Santa Rosa EC - "These nets will soon be added to the nets already on the KI4WZA repeater on port C. Dongle users should connect directly to the reflector.


---

FFARA was busy in 2013 putting Santa Rosa Island on the air as W4S during ISLANDS ON THE AIR JULY 26th - 27th - 28th 2013 For More Information, check out W4S Islands On The Air
---
Current Local Amateur Radio VEC testing
The Milton Amateur Radio Club is still sponsoring the VEC testing. It is scheduled Bi-monthly, on the even number month (Feb,Apr,Jun,Aug etc), on the 2nd Thurs of that month. The testing location is at the West Fla Hospital, off Davis Hwy, just North of the I-10 - Davis Hwy inter-change. It is on the North end of the hospital in the Physical Therapy section, in the Pallivon section. The test will start at 7PM.

JOIN FFARA